The website Old Guy Hockey started as an idea about 3 years ago, but I never spent enough time or had enough time to get the idea off the ground. I always thought it would be a cool idea to highlight and cater to the older player. Most of the guys I play with are in the 40 to 60 year old range, with a few exceptions (you know those real fast young guys in their 30's….. haha).
I remember when I thought being in the fifties was old… boy how time flies! I think the saying is 50 is the new 20 right?? At Old Guy Hockey it's something like that, we want to stay active, have fun and play the game we love as much as we can (or as much as our body let's us).
It all started for me back in the late 60's early 70's. The year  Bobby Orr scored the winning goal in the 1970 Stanley cup finals. I was 10 years old and I'll never forget that day, May 10th 1970, because it happened to be Mothers Day, my baby brothers birthday (here's a shout out Mike) and the Stanley Cup Finals all on the same day. Needless to say coming from an Italian family , no better reason to have a party, lots of food, wine, relatives and of coarse the game was on!   I remember like it was yesterday sitting in the den with my dad, uncles and  brothers watching the game. It was awesome as a young kid getting inspired as Bobby Orr flew through the air and scored the winner. The den exploded with excitement and I became a hockey fan / player.
After school everyday, we'd play street hockey , we signed up for the local youth hockey teams and started our ice hockey careers.
For those who grew up around the Boston area you'll remember the explosion that hockey had after that. Remember the MDC (metropolitan district commission) rinks, those ugly Aqua blue rinks that popped up all around the area. The demand for youth hockey changed with that 69-70 season when the Bruins won the cup. I'm sure you guys all have a similar story from your background where you grew up. I would love to hear about it ! It's funny with hockey guys, we all love to hear about the nostalgia and the old days. Like I said earlier , time flies by and we have great memories and great futures also.
I played youth hockey for 5 years and then just went to pick up games with my buddies. I never played at a high level but always loved the game. We used to rent out the rink where the Bruins practiced back in the day (Hockey Town Arena on Route 1 in Saugus, Mass). It was fun and some of my buddies that I'm still in contact with can give details on some of those early years when we were in our late teens early twenties… what a blast!
As time went on I stopped playing for a while as the family and responsibilities took up more time (probably a familiar story for some). Then, as if the heavens opened and said it's your time again, I got my 1st son into hockey…. well a learn to skate program, that led to a house league program, that led to me helping out on the bench, that led to me helping with practice (with my 1984 leather CCM Super Tacks which felt like converse all star high top sneakers with blades). Of coarse all the fathers coaching were hockey guys,  that led me to "hey Steve, ya know there's an early bird league" and the rest is history. That little exchange when I got my 1st son into hockey was in 1994 and I've been playing, coaching and loving it ever since. My 2nd son graduates this year from high school and just finished his high school hockey career as of this writing (4/11/12).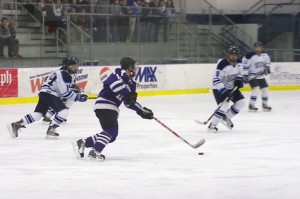 We all may have similar stories but what I want to get across here and in future posts to Old Guy Hockey is :Hockey has been and still is a huge part of our life. The fun memories  looking back at our youth and looking forward to playing as long as we can. Looking forward to our kids future playing the game. Some will play at high levels as some of you have I'm sure. All of us will just enjoy the game for what it is, a fun past time / hobby / exercise what ever you want to call it.    I could go on and on , I actually have written way more than I planned on, but the point is for  most of us , our morning / evening skate whatever it is can be one of the most enjoyable parts of our day for many reasons that we will be sure to examine….( ex: locker room banter alone could take up a whole page… you know what I mean).
That's it for now … be sure to check out our Old Guy of  The Month Page !
Here's a sneak Preview : Bobby V … retired from work … But not Hockey !! NICE !