Old Guy of the Week –  This weeks OGH old guy of the week has to go to our faithful Goal tender Ronnie N. Even when he's not between the pipes (due to an undisclosed injury that kept him from playing, probably a hang nail or something like that) Ronnie always shows up with the drinks and pucks and hangs out and does the score board… Thanks Ron!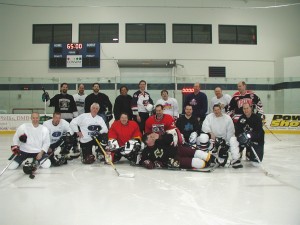 As the game wore on I did see a smirk on Ronnie's face as he watched Neverett taking shots from Jay , Scottie and Dave L. As a side note, many of the players attending the FMHL game did wish to switch sides so they could shoot on Nev. I don't know about that other than to say that maybe Nev wanted extra shots (death wish). Lance managed to tip a shot that went up and hit Nev's neck protector and shattered it into little pieces. (Ronnie laughed and murmured something under his breath like … how's that or been there or  how do you like playing with the big boys ….. …..some comment like that!
All in all it was a great game and great way to start the day. Thanks again Ronnie for running a great skate!!
See you Friday… Go Bruins Game 2 in Pittsburg in 2 minutes
Steve