It's been a few weeks since I've done a write up for our game. So here goes.  Prior to the game our fearless leader Paul flaunted his private stash " quiet tape"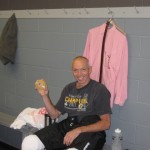 which was hard to focus on with his fancy pink shirt in the background.
As I was about to leave the locker room to head out an get a few photos before the game I noticed Nev trying to get dressed and was wondering why he was kneeling on the floor putting on his shoulder pads (we all have our rituals I guess ?).
I have to say this morning started off a little slow as the typical Tuesday Morning. I think 20-30 minutes went by and the score was really tight 3-1 or something like that. Then the flood gates open up. Our fearless former goalie / playa Joe A. subbed today (nice to see you back Joe)  and played forward on white and was a force to recon with teamed up with Scott "slash" Smith  and Brad (I skate faster with a black helmet) Ayers. Nice Job Gary trying to defend this 3 on 1 !!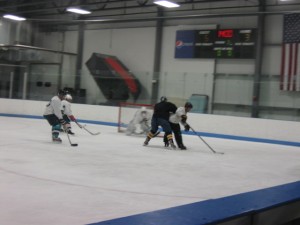 Thanks Bill for taking over for Joe in the Net. After your shelling today by Scotty G …. we are pleading with you to come back.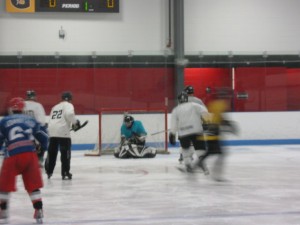 It's not always this way we promise (our break outs will get better , our back checking will be more effecient, our odd man rushes will be less, we will be as supportive as possible) although we do have a history of goalie burnout, you're young and have many more quality years ahead of you. When you start drinking at 5:30 A.M. let one of us know and we'll start looking for a sub to give you a break!! ( P.S.  Notice in the picture of play action the only one moving mmmm)
Thanks to Kyle for helping out Black with the breakout and staying solid in the net as black got pinned in 4 or 5 times through out the game. 
We all have a great time every week and love starting the day this way. I took alot of pictures this morning and will feature them in the weeks to come.
We did miss our regulars Chris P, Walter and Jimmy . I may mention also that Joe A. who was out today always brings up the speed level  of the game. Thanks to Kent for coming and adding another dimension to the defense. See you all next week after a black win I'm sure we'll see white coming out strong.