Thanks to Neverett for a "better late than never"  review of the game.
Our goalie with the bullet cam got traded to Wednesdays but we are still waiting to find out what we get in return.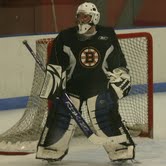 I brought him beer and donuts last tues but he wasnt there. It is just not the same without him.  Even Paul is devastated, he is sending out emails a week in advance… We did pick up a replacement who seems like he may be a suitable replacement in goal, but he is way too quiet in the locker room.
No yelling and screaming at his team either before, during or after the game. Another 3 or 4 weeks of us defense men screening him, shooting on him and tipping the shots at him and letting those 4 on 1 breakaways in maybe will get him talking a little bit.     On a good note , Gagnon was back from Army training. And Kyle showed his leg is healed up.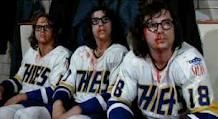 Darlene kept a close eye on the whole white team (she must have warned them before the game) so the slashing to the backs of the black teams ankles and the rest of the hacking was way down from previous weeks. Lots of saves, a bunch of goals, 2 broken sticks, i drank some of Pauls water and the benches in the locker rooms are still too high. Reggie got his first goal in 9 years 6 months 27 days, other than that is was pretty much a normal tuesday morning skate.
Thanks for the recap Nev, see you on Tuesday !