Election Day 11/6/12 … The presidency may change hands today… But the TMHL will forge forward with it's policies of Locker room banter, a few laughs, exercise for all and post game analysis. Seriously, as our Country seems to be changing and we all may have concerns for our future as well as our kids future, we can all be thankful that we live here and have the opportunities we do in the USA. Hopefully we'll all stay healthy and Fit enough(haha) to keep up our TMHL tradition for many more years to come!
 The Pre Game Banter
Today's morning pre game banter revolved around Joe A. retiring from Tuesday Morning but actually playing more in the last month than some of our regulars. As I mentioned on Joe's facebook page, the TMHL is like the Hotel California "You can check out anytime you like but you can never leave".
Well we're sorry Bill didn't work out as our new goalie (God knows we need some young Blood) but job has to trump pleasure in most cases. With that said, we're glad to have reliable tenders on both ends of the ice. Thanks ! We had some discussion of Nev's Thanksgiving Skate. Nev has Cyclones arena booked along with Skate 3 for a total of 5 sheets of ice for Thanksgiving Morning. It's always a fun time and he fills it up every year. That's about it from our locker room, although I was a little sad we had no Maple Scotch or Donuts today. Rollie didn't miss anything today.
Nev mentioned picking up a Helmet Cam soon, can't wait to see the action in the weeks to come.
Game Time
My game time recollection is foggy this week due to election day stress and discussions of holiday plans the bench(I have a hard time focusing  sometimes TMHLADD). I do know that we had a pretty even match today. Black had a breakout problem today ( I know Joe… your thinking right now a break out problem TODAY?… it's like everyday) but it was evident to me that most of the black team breakouts were more like a botched icing that connected with someone by accident! For all of you White team players who are laughing at the Black team breakouts, don't forget Kyle usually takes it into his own hands when you guys need to break it out of your zone…. So don't chuckle to much haha . It was nice having a full bench and good ice compared to last week. Thanks Paul for keeping on top of the subs and keeping the skate full almost every week!
Honorable mentions go out to Jimmy P., Steve C. and John G. for for the extra effort to finish plays and back check. Nice to see Chris P. back in the line up. We all welcome Kent back to a regular spot!
As always thanks to Scott G. for bringing the level of play up for the black team along with the younger more agile Morrisette for the White team.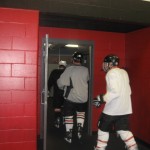 Post Game Chatter
As usual a fun game, no injuries and good exercise (better than the elliptical any day of the week). There was some talk of getting together one of these Saturday nights to watch one of Matt's home games with Daniel Webster College and getting a beer or 2 after the game! Home games are at Conway arena usually around 8:30. See you all next week!