Today's Guest Summary by one of our faithful Goaltenders Joe A.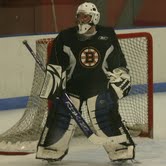 After a 5 minute "warm-up" and watching Nev d!ck with the clock for another 5 minutes.
Puck Drops: 6:05AM
6:05.30 Black walks past white. Scores.
6:05.45 White attempts a break-out pass. Intercepted. Black scores.
6:06 White carries over the blue line. Dump and watch. Black recovers. Breaks out. Scores
6:07 Line Change for both teams. Black Scores.
6:08 Matt comes up hobbling; all hopes are lost for any white offense. Black steals puck, scores.
6:09 Paul steps up and moves to White. Doesn't matter, even with the Russian jersey.
6:10. Black scores. Doesn't matter how
6:15 With black team shows sympathy lets white break in over blue line. Goalie watching 2 strange men at opposite ends of ice, swearing they moved. White scores.
6:16 Black is angry, gives puck to Scott. Scott winds up and scares white..score.
Time not needed anymore.
Goal Black
Goal Black
Goal Black
Shot white Save.
Goal Black
Goal Black
Goal Black
In a desperation attempt to put some life back into white black trades Blacks leader Neverett.
Goal Black.
Shot from behind goal line, "maybe waist high pass"…breakout……goal Black.
Dump and chase. Minus the chase.
Breakout black, goal.
White breaks over blue line goal. "I suck"
Goal Black. Team looks to make goalie trade. Tsk tsk tsk.
1 minute remains. Teams had smiles, chalk it up as a "learning experience". Ron, not smiling. L
Welcome back Ron.
 Well I guess it looks like I missed out on the old fashion A$% whooping ! Hopefully see you next week.