The black team got spanked this morning by the continued onslaught from the white teams offense. Black got out to a quick lead with one early on , but that was it. The final was something like 8-1 …. Ouch!
The white team played a tight game all around … good goal tending (Fitzy) along with good "D".
The Black team missed a few good opportunities but couldn't match whites sustained pressure (thanks to Kyle, Jimmy and John) . The Black team mixed up the lines and positions a bit and lost a little of their offensive power by having Walter and Rob back.
Next week Black will have to dig deep come up with a big one. Sorry Nev … next time we'll have a better outing.
Btw … I wasn't trying to take anyone's head off on the white bench this morning.. That was my lack of vision thinking I was going to bank the puck off glass to get it into the zone. Better go back to something I'm more skilled at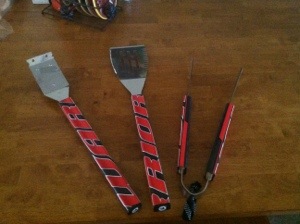 Any one for a burger or steak ?
See you guys next week
Steve