Thanks Joe for another colorful write up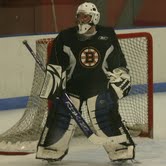 and the live action caught on your helmet Cam !
Woke up looking forward to hockey after the long weekend and missing MMHL. Bought a new goalie stick and new helmet cam and was eager to put both on the ice. Teams looked good and ready for battle, but that quickly changed.
Black quickly started dominating the offensive zone led by their leading goal scorer Scott"move or I'll hurt you" Gagnon but I was ready. Black jumped out to an early lead and never looked back.
Ron Normandin stood tall for Black in net coming up and denying some sure goals. I believe this allowed for blacks defense to jump up into the play and really get aggressive. White seemed to be dismantled by the halfway mark, losing battles to the puck and some sloppy play in the defensive zone.
White's offensive charge was led by Keith "see you next summer"Vallincourt and Nev "my back hurts from these f'ing tall benches" Smith, but that still wasn't enough. After a brutal 13-5 pounding, Black makes "the trade"…….Gagnon now on white leads the offense.
With time winding down, white brings back some dignity to TMHL and pulls within 4. Again all had fun and with the goalie cam you can really see how incredibly fast dizzying it is for me to play net. Oh and Walter, you're really not a prick..I was just kidding. Kinda… 😉
Until next week. Rest up and I'll see you on the ice.
Thanks again Joe for your perspective …. Now we can really see what you see… Oh boy…