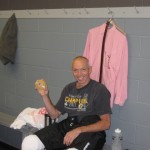 Well today started off with a pleasant surprise. Got to the rink and Paul mentioned that Richie Ray was playing net in Kyles place instead of Joe. Now as President Obama says often "Let me be clear" I'm not happy that Joe wasn't in net ( if you read on you'll find that is not the case)  but I was really happy to hear that Richie was back in action. Most of you guys know that Richie had been one of our regular goalies for many years and 3 years ago had to have some Surgery to fix himself up (not to mention the psychological damage of playing with us for many years). Well on behalf of all the TMHL group, I was great to see you Richie and we hope to see you again soon! So as far as we were concerned this morning, Richie was playing for Kyle and Billy (our new young goalie) was playing on the other end. I don't know what happened with Billy but at about 6AM Paul put the call in to the sleepy ( I don't want to get out of bed) Joe A. to see if there was any way in his blessed heart that he could get his A$$ out of bed and bail us out. This is where the dedication to the TMHL and the Love of the game kick in. I would like to say that The TMHL is a top priority for most of us and a fun time no matter what level player you are. But what it really comes down to is Love of the Game. Thanks  for coming down Joe.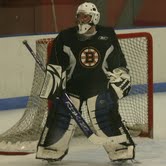 Well with that settled we all got ready for our weekly battle. On a side note all of us here at Old Guy Hockey and the TMHL want to Congratulate Bob Coco for his recovery and his 1st of many days back in the net. Rollie H. (director of operation of the MMHL) filled us in on the good news of Bob's return (suffered a concussion early in the year)! For those of you who don't know Bob you can visit him at No Iciing Sports in Hudson NH. He has all the gear and accessories for all your hockey needs, not to mention awesome skate sharpening!
On another front in the locker room banter, we heard that one of our gone but not forgotten TMHL Members Danny B. was highlighted in an AP article for feedback in the Kennebunk Zumba fiasco. Hopefully Danny's business can cash in on the media frenzy revolving around the case. I haven't been able to get there for a visit to the store yet but if anyone is interested it's the Landing Store. Maybe Danny can make a guest appearance on Tuesday someday soon.
Strange day, as I am writing this we just had an earth quake (NECN news said early estimates 4.7 centered in maine) Boy this zumba story is really rockin the New England area. This is the first time I have ever felt anything like this. My couch started shaking and then it sounded like someone was out on my deck and then the house kinda swayed in a strange way. Wow that was weird.
Game Time
Very low scoring to start. Richie played awesome for someone who hadn't seen the ice in three years. And Joe was his stellllla self. All in all the game was pretty even. Although I think Black had the most sustained pressure line for line. White managed to pull off he win, capitalizing on a bad line change by black. There was murmuring about tripping, penalty shots and Blah Blah Blah. Whatever. Nev forgot to pick up the donuts so there was a quite a degree of sadness in the primarily black team locker room (this may be the reason for the loss, we'll never know). Pre-Game donuts have usually helped Black because Rollie likes a little breakfast before the game. Maybe next week! Have a good week and see you next Tuesday!